Message from the Desk of Rabbi Steven Burg
Dear Aish Family,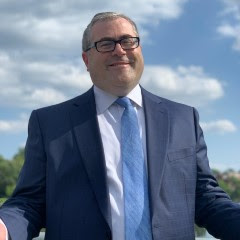 I have had many conversations with members of the Aish family around the world about their experiences of the trauma of Covid-19. As the world is getting vaccinated and slowly opening, generally, many of the talks revolve around speculating when Israel will open up to general tourists again. Still, so many communities remain closed in so many places. The vaccine dispersal and effectiveness are varied globally and many of our Jewish brothers and sisters are still in lockdown and not yet out of the proverbial woods.
It was in this context that I was so happy to be able to have dinner with Aish partners Mariano and Marina Weil from Buenos Aires. They are able to travel and are visiting New York for a few weeks so we were able to get together in Manhattan. The first time I met Mariano and his brother Frederico was a few years ago in Buenos Aires.
They brought me to a piece of land in the middle of an area with many Jews who were not connected to any synagogues or Jewish community. They told me that under the direction of Ashkenazi Chief Rabbi Daniel Oppenheimer they were going to build a synagogue there and wanted to partner with Aish. Looking down at the swampy parcel, it was hard to imagine the project; but the Weil brothers were determined.
They started construction and on my last visit to Buenos Aires I was accompanied by my close friends and Aish Executive Board members, Andrea and Stuart Hytman. We were amazed at the progress that was being made. Then Covid struck and construction ground to a halt. In the past 16 months, Argentina has been under a severe lockdown. The Jewish schools have had in- person instruction for less than two months during that time. They are still struggling to dispense a vaccine and are still undergoing intermittent lockdowns. I did not hold out much hope for the project reaching the finish line.
I was therefore overjoyed when Mariano proudly told me that they had managed to finish enough of the building to start hosting some classes and prayer groups. They had over a hundred participants last week! I was moved to see the pictures of Jews studying Torah on the spot that was so desolate a few years ago. This, for me, represented the reason that the Jews always continue to survive and thrive. In the midst of a worldwide pandemic, the Weil brothers managed to move forward to create a venue for Jews to study their heritage. This is the spirit of AISHVision 2030.
We must all continue to work hard towards getting Jews to study Torah. We must create virtual and physical spaces where Jews who are not connected to their souls can spiritually plug in. We must have the vision of leaders like Aish Rosh Yeshiva Rabbi Berkovits and Argentina Chief Rabbi Oppenheimer who will lead us back to the Almighty. We must have partners like Frederico and Mariano Weil who have the strength and conviction to turn vision into action. When Covid finally lifts I am personally inviting all of you to Buenos Aires so we can celebrate the creation of this new spiritual castle.
Shabbat Shalom,
Rabbi Steve Burg