I often get asked why I spend so much time traveling. The response I always give is to quote the notorious bank robber Willie Sutton who, when asked by a reporter why he robbed banks he answered: "because that's where the money is." I travel to be with my Jewish family all around the world. Nothing is sweeter than to sit and talk with Jews from different communities. My favorite part is breaking bread with so many friends that I have made these last few years. 
 
I began this trip last Thursday by having dinner with Phil Lieberman and Lori Miller in Los Angeles. They have been true advocates of our media work and we celebrated the success of the Aish team this past year. After a beautiful Shabbos in LA, I traveled to Denver where I had dinner with Ahron and Rivky Katz. I got to know Ahron when he attended our world famous Sukkot Birkat Kohanim event on the Aish World Center roof. He has become a friend and true partner as we talk business strategy for Aish.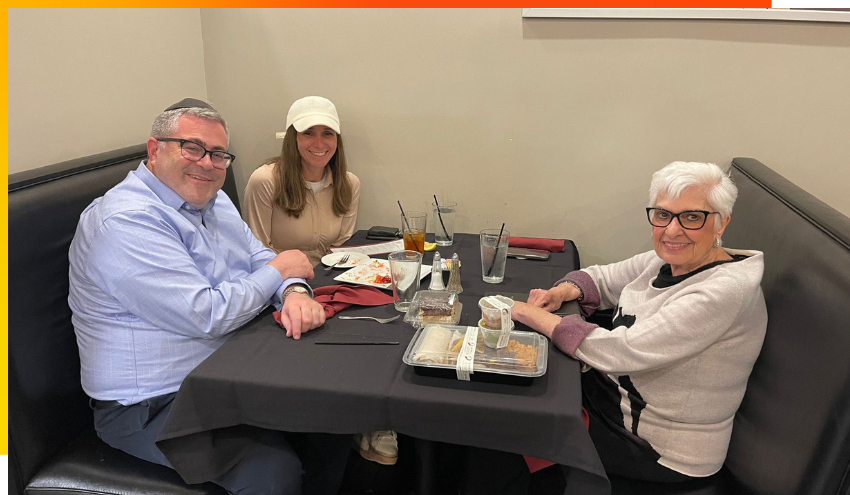 In between my "dinner meetings" I spent quality time with Rabbi Yaakov Meyer who, aside from being one of my dearest friends in the world, is the founder and creative spirit behind Aish of the Rockies. I also had a chance to meet with dynamic Aish COO Rabbi Zev Jacobs. He walked me through their strategic plan for the coming year. It was inspiring to see Aish making such a difference in the greater Denver area. 
 
The next night I had dinner with Aish board member Sandy Schiff. We spoke about the future of Aish and the plans for the Dan Family Aish World Center. Sandy told me that she had spent time with one of the superstar local Aish Rabbis, Yonatan Nuszen, and was so taken by the work he was doing. I was moved to hear her words of praise. 
Five years ago I was in Denver spending time with Rabbi Meyer and we went to see one of the homes that Aish owned. I noticed that the backyard connected to the local high school property. I told Rabbi Meyer that we need to put a Rabbi in that house to work with the hundreds of unaffiliated Jewish teens that were only a few hundred yards away. He agreed and we spoke to NCSY about a potential partnership with Aish. As Rabbi Meyer was willing to provide most of the funding, they readily agreed. The question then became who would be the best Rabbi to fill that position. 
 
When I started at Aish, I became close to Yonatan Nuszen, who was a student at Aish. He has incredible energy and one of the most positive attitudes I have ever encountered. His wife is an amazing partner to him as well as being a registered nurse. In my mind he was the perfect fit for the job so he and his wife moved from Jerusalem to Denver. 
In the past four years Rabbi Nuszen has taken the local chapter from a few hundred teens to over a thousand! He has done this with great innovation. Last year he had 350 teens build a Lego Chanukah Menorah that was over 24 feet tall! He then arranged for the Lego that was used to be donated to foster children in Denver and Jerusalem. 
He also started the first Sukkah Cruise and had hundreds of teens take a boat ride with their parents while observing the mitzvah of Sukkah. Dismayed that not everyone could make it to the cruise, the next year he built a sukkah on a flatbed truck and took it all over Denver. 
It was in this spirit that I was so touched that Sandy was telling me about the amazing work of Rabbi Nuszen. There are many lessons to be learned here. The strength of having Aish on the ground to make things happen in communities around the world is second to none. The amazing job Aish did in cultivating the leadership qualities of Rabbi Nuszen. Helping to send him out to a community where he could shine. Partnering with NCSY to reach young Jews. 
 
These are all lessons integral to Aish's philosophy. We must identify passionate young leaders and help them to inspire the next generation of Jews. We must partner with anyone and everyone who is interested in strengthening the Jewish Nation. We must be creative and do spectacular Jewish events to elevate every Jew's experience. Together we can ignite the spark in every Jew's soul.